Condenser lavalier microphone
Perfectly matched to Røde Wireless GO II (Article Nr. 535956)

Also suitable for other devices with 3.5 mm microphone input

Compatible e.g. with notebooks, DSLR cameras and mobile recorders

Miniature condenser capsule with omni-directional characteristic

Broadcastable sound quality

Frequency range: 20 - 20000 Hz

Sound pressure level limit: 110 dB

Kevlar-reinforced connection cable with 1.2 m length

3.5 mm TRS jack plug with gold-plated contacts

Dimensions (microphone with draft shield): 24 x 11 x 11 mm

Weight: 12 g

Includes foam windscreen, crocodile clip and transport bag
Available since
August 2019
Frequency range from
20 Hz
Let's GO!
The Lavalier GO is a miniature lavaliere microphone specifically designed for use with Rode's Wireless GO system. Thanks to its 3.5 mm TRS connector, it can also be connected directly to the mic input of a laptop, digital camera, or mobile audio recorder, provided that this input can supply 3 to 5 V of power. The Lavalier GO can be discreetly attached to the collar of a t-shirt or shirt button facing using the crocodile-style clip supplied. It is also available in white for use with light-coloured clothing.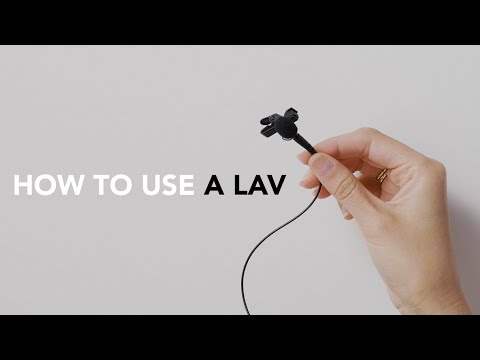 Discreetly wired
The Lavalier GO's omni-directional mini condenser capsule offers many degrees of freedom in its placement. Even when positioned sideways or above the source, it will continue to provide a clear and accurate signal. The crocodile clip and cable loop included prevent the cable from becoming entangled and also protect the microphone from inadvertently being pulled out of place. The cable itself is Kevlar-reinforced, making it suitably robust for most applications. A removable wind/pop shield and a protective case are also provided.
As you like it
The RODE Lavalier GO offers an excellent price/performance ratio that will appeal to amateurs and professionals alike. Its target audience includes aspiring YouTube streamers and daily vloggers as well as fully-fledged media agencies and production companies that regularly "mike up" speakers, talkshow guests, and interviewees. It should be noted that the Rode SC4 adapter cable is required when using the Lavalier GO with a mobile phone as a recording device – and should this be your main recoding setup, Rode recommends the almost-identical Rode SmartLav+, which already has the required 3.5 mm TRRS (not TRS!) plug.
About Rode
Founded in Sydney, Australia in 1990, Rode is a specialist in high-quality studio microphones. With its very first in-house, completely Australian-built model, the NT2 large-diaphragm microphone, the company created a classic which is still produced in its current and enhanced version, the NT2-A. An extensive range of studio and live microphones has also been added, regularly updated, and expanded over the years. These new additions include a variety of professional microphones which are designed for video and mobile applications and can be connected directly to SLR cameras or smartphones.
Compact class
As previously mentioned, the RODE Lavalier GO was initially developed to be used specifically with the Wireless GO System. When combined, these two products form one of the most compact and discreet wireless microphone systems available on the market. What's more, the Lavalier GO can be used in countless settings that do not require the optional wireless set – such as live teaching, video courses and tutorials, webinars and training sessions, and interviews at trade fairs and events. The Rode Lavalier GO particularly shines when microphones need to be set up quickly and the speakers need to keep their hands free.
This is what customers who viewed this product bought