2-Channel Rotary DJ Mixer
3-Band EQ per channel

2-Band EQ for microphone channel

3-Band isolator

FX send control and pre/post fader selector switch

LED 12-segment mix and PFL VU meter

Alps Blue Velvet potentiometer

Maximum output without distortion: 21 dbV (23 dBu)

Wooden side panels

Dimensions (W x D x H): 185 x 400 x 100 mm

Weight: 3.6 kg
Connections:
1 Microphone input

2 Phono inputs

3 Line inputs

XLR/RCA master output

RCA monitor output

6.3 mm jack and 3.5 mm mini jack headphone output
Available since
March 2022
optional 19" rack mount
No
The legendary DJ brand Ecler is back after a long break and has a lot in store! The Warm2 is a special gem, as it is a rotary DJ mixer with a special design. The robust metal housing has been provided with elegant wood panelling and, in combination with the unique rotary knobs for the channel volume, makes a distinct impression. As the slimmest rotary mixer on the market, the Warm2 is not only a feast for the eyes, but its sound quality is also equally impressive, The mixer is equipped with two channels and an additional microphone channel. In addition to the isolator channel EQs, the Warm2 also has a large equaliser section for the master channel, so that more precise sound adjustments can be made.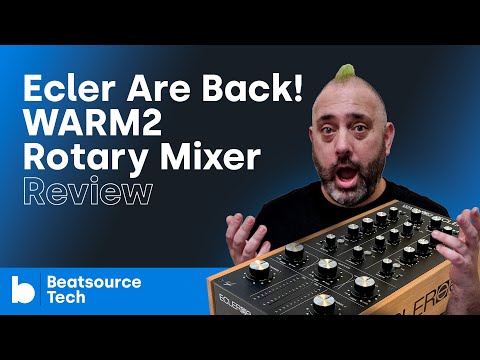 The long hoped-for comeback
The Ecler Warm2 comes with a total of three channels. Channels 1 and 2 can be switched between phono and line signals, but the microphone channel can also be used as a stereo line input for a third sound source. In addition to the trim control, the main channels have a 3-band isolator EQ, a button for pre-fader listening and a send FX control that can be switched between pre and post for using the send and return paths on the back of the unit. The microphone channel, on the other hand, has a somewhat simpler design, with a 2-band EQ for bass and treble in addition to a trim control and pre-fader listening. Unlike most DJ mixers, however, the Warm2 does not stop there: In the middle of the mixer there is another, very prominently placed master equaliser with isolator function to adjust the sound even more precisely to one' s preference.
Warm sound to the power of two
The Warm2 not only offers many options for sound shaping, but also provides visual information in the form of a large 12-segment mix and PFL-VU meter. On either side are the centrepieces of the mixer: two ALPS Blue Velvet potentiometers for volume control of the channels. Compared to conventional line faders, they offer a completely different mixing feel, making every performance something special. Thanks to the extra-robust ALPS Blue Velvet potentiometers, you can always rely on the Warm2, even during the wildest performances. Of course, jack connections in 3.5 and 6.3 mm format are also available on the front of the unit for pre-fader listening to the individual channels.
About Ecler
Ecler was founded back in 1965 – so of course the company has decades of experience in analogue audio design. Initially, the focus was on professional and high-quality audio solutions for a wide range of different areas, but for 40 years now, Ecler's repertoire has also included the production of high-quality DJ mixers with unique designs. All devices are designed, assembled, and tested in Barcelona, with a focus on innovation and design. In order to continuously offer the best products, Ecler has set itself the mission of combining great features with user-friendly, ergonomic designs.
The rotary mixer for all
The Warm2 is very attractively priced for a rotary mixer, allowing DJs with limited budgets to enter the world of rotary mixers. Thus, the Warm2 is a real eye-catcher not only for turntable DJs, but also for users of line audio sources with a soft spot for rotary mixers. As a 2+1 channel DJ mixer with line, phono and microphone inputs, the Warm2 can be used in many ways. Not only can it be easily combined with several line and phono signals, but it also offers creative combination possibilities with other equipment thanks to send and return connections with send FX controls. They can also be used to integrate DJ effects units, guitar pedals or other effects into the setup.
This is what customers who viewed this product bought