Headphone amplifier
Very compact headphone amplifier for in-ear monitoring

XLR and jack input (combined, lockable)

3.5 mm Mini-jack jack for earphones

Built-in stereo / mono source switch

Volume control with on / off switch

Operation up to 12 hours with 2 AAA batteries or rechargeable batteries (not included, suitable batteries: Article Nr. 417474)

Dimensions (H x W x D): 33 x 38 x 132 mm

Weight: 0.140 kg

Includes belt clip
available since
November 2018
In-ear monitoring at a budget price
Behringer's Powerplay P2 makes in-ear monitoring an affordable option and demonstrates how easy it can be for players to hear the rest of the band - and themselves - without the need for extra speakers or expensive wireless solutions. And while this budget-friendly system has just a single input and cannot be mounted on a stand, it does still provide a range of practical features and is extremely easy to operate. The detented volume control admittedly does not have the finest increments in the world, but the batteries (available as an accessory) last a comparatively long time, and the headphone output is extremely easy to access.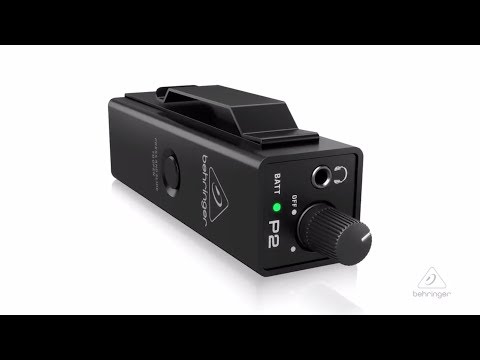 Small, lightweight, and practical
The Powerplay P2 headphone amplifier, which measures just 33 x 38 x 132mm and weighs in at a mere 140g, bridges the gap between the monitor signal coming from the mixing desk or instrument and the player's ears, and its handy belt clip means it can be kept close to hand at all times. A locking XLR/jack combo socket located on the bottom of the Powerplay P2 allows both mono and stereo signal sources to be connected easily, and the unit features an internal mono/stereo switch to allow the most suitable mode to be selected depending on the application. The 3.5mm mini-jack headphone output, which is located at the opposite end and has a resistance of 0.5 ohms, delivers up to 2x100mW into 16 ohms, and the adjacent LED indicates the battery level.
For maximised performance
The use of in-ear monitoring allows the sound in concert venues to be vastly improved, and the immense ease of operation that the Behringer Powerplay P2 provides will allow players making their first sorties onto the stage to concentrate fully on their performance. That is not the only benefit, however - its extremely affordable price also means that their wallet won't take too much of a hit. Even guitarists and bassists can simply clip the preamp onto their belt and enjoy a consistent monitor sound wherever they are on the stage (and can even use it for practising at home). If no output signal is to be heard, the LED indicator will quickly let the player know whether the P2's batteries are the cause - a very useful feature on dark stages, and lead singers can also use the P2 to increase their monitor volume during the performance in order to hear themselves better (it isn't unknown for musicians to sneakily turn their amps up louder than they were at soundcheck, after all!).
About Behringer
The company, which was founded in Germany by Uli Behringer and now manufactures its products in China, has been known for affordable and great-value equipment since its very first product, the Studio Exciter F. An array of mixing consoles (such as the Eurodesk MX8000), signal processors, and later sound amplification and monitoring equipment, has made it possible for countless musicians to fit out their home studios, practice rooms, and mobile PAs within budget limits that were previously unthinkable. The acquisition of other companies, including Midas, Klark Teknik, and TC Electronic, meant that new product groups were added - and also resulted in the technical expertise of these companies being incorporated into product development.
As personal as it gets
Because in-ear monitors shut out unwanted background noise, they offer musicians the highest possible quality of monitoring sound. All that users additionally need alongside the Behringer Powerplay P2 is a set of AAA batteries - such as the Thomann LR03 AAA 4pc, which deliver an average of 12 hours' battery life. And should it be necessary to connect a stereo source such as a headphone output, users simply need to pick up a robust adapter cable like the Sommer Cable Stage 22 SG04-0500-SW and switch the internal mono/stereo switch to the stereo position.
This is what customers who viewed this product bought