Digitale Workstation
76 Keys (FSX) with velocity sensitivity and aftertouch

1990 Sounds + 75 Drum/SFX Kits - including 106 S.Articulation 2, 437 S.Articulation, 141 FM, 123 Mega Voices, 24 Organ Flutes, 11 Ambient Drums/SFX, 11 Revo Drums/SFX, 95 Ensemble Voices

800 Styles (including 720 Pro, 69 Session, 11 Free Play) with 4 variations each and 4 One Touch Settings (OTS)

384-Voice polyphony: 128 for AWM + 128 for Expansion AWM + 128 for FM Voices

Keyboard parts Right1, Right2, Right3, Left

Registration Memory - 10 slots per bank

Low-reflection 9" LC touchscreen

Sub display above the faders and knobs

6 Assignable knobs with LED status display

9 Assignable faders with LED status display

Cross Fader

9 Assignable buttons: A-F, 1-3

3 Articulation Buttons

Midi sequencer: playback (SMF format 0 and 1, XF), recording (SMF format 0)

Audio: Playback (WAV + MP3, mit Time Stretch, Pitch Shift und Vocal Cancel), Recording: WAV (44,1 kHz, 16 Bit, stereo)

Effects: Reverb (85 presets, incl. Steinberg REVelation Reverb), Chorus (107 presets), DSP (363 presets incl. VCM), Master Compressor (5 presets), Master EQ (9 presets), 28 Part EQs, Vocal Harmony (54 presets) Synth Vocoder (20 presets)

Multi Pads - 504 banks with 4 pads each

Chord Looper

Playlist function - max. 2500 entries per playlist

USB audio interface - 44.1 kHz, 32 Bit, stereo

Sample memory for voice expansion (approx. 3 GB)

Internal memory with approx. 15 GB for style/audio style expansion, among other things

Bluetooth 5.0, codec: SBC, range approx. 10 m

W-LAN: 2.4 GHz

Dimensions (W x D x H): 1234 x 456 x 151 mm

Weight: 14.2 kg

Incl. power cable, sheet music holder, 2 adapters for sheet music holder
Connections:
Main Out: 2x 6.3 mm jack, L/L+R, R

Sub Out 1+2: 2x 6.3 mm jack

Sub Out 3+4: 2x 6.3 mm jack

Headphone output: 6.3 mm stereo jack

Microphone input: XLR/jack combo socket, incl. switchable +48 V phantom power

MIDI A In/Out

MIDI B In/Out

Aux In (L/L+R, R)

HDMI Out (1280 x 720p max.)

3 Assignable foot pedal connections

USB to device (up to 256 GB)

USB to host

Connection for GNS-MS01 speaker system
Available since
November 2023
Storage Medium
SSD, USB to Device
Clap-o-meter
for Yamaha Genos 2
Does it make you yawn or does it make you go "yay!"?
The top entertainer gets a facelift
Yamaha has overhauled its high-end arranger workstation, significantly enhancing both its features and its performance in the process: Presenting the Yamaha Genos 2! This upgraded model provides a wider selection of sounds, more realistic ambient drums, and a more widely varied range of styles as well as popular polyphonic FM synth sounds. The Genos 2 additionally features a new and more user-friendly layout for the display and sub-display, and status LEDs have been added to the faders and controls knobs. The user can now also adjust the contrast and even invert the colours on both displays, which makes for increased legibility.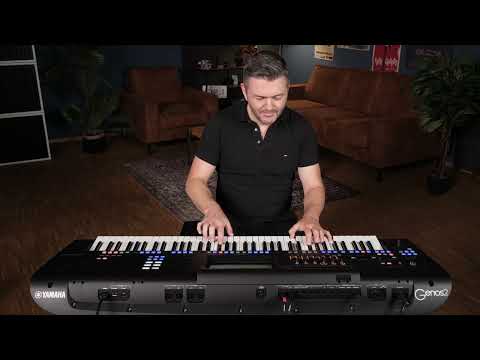 Live arranger and synth in one
In addition to the company's proven and realistic-sounding AWM sampling technology, the Yamaha Genos 2 is additionally equipped with an FM sound engine that authentically replicates the sounds of legendary 1980s synthesizers like the DX-7. Entertainers, keyboard players in bands, producers, and hobby musicians now have 800 editable styles from the whole spectrum of genres at their disposal, which they can adjust and customise to suit the respective song even more closely (and in real time) using the new Dynamic Style Control function. Players can also use the free "Midi Song to Style" app to convert MIDI files into playable styles, including intros, variations, and endings which can also be triggered using the onboard chord looper. The powerful effects section in turn gives the user an immense wealth of effects with which to enhance the various instrument sounds as well as Yamaha's popular vocal harmony processor for the incoming microphone signal and, for the first time, Steinberg's new "REVelation" reverb.
Pro on stage, workhorse in the studio
Discerning keyboard players can rely on the Yamaha Genos 2 to provide everything they need to get the best out of their on-stage performances and studio productions. Its HDMI connection allows live performers to transfer lyrics and chords from MIDI files as well as audio playback and proprietary files to external monitors, while the popular playlist function (which includes a search and sorting facility) allows fast and easy access to their playlists during their set. Musicians in a recording environment in turn will no doubt appreciate the Genos 2's internal MIDI/audio recording facility, MIDI audio function for studio applications, and integrated wireless LAN and Bluetooth audio connectivity.
About Yamaha
For decades, Yamaha has been one of the world's best-known manufacturers of musical instruments and audio technology. The Japanese company's long history began at the end of the 19th century with the harmonium. The product range has constantly expanded since then, which has made Yamaha one of the few manufacturers today to offer almost the entire range of existing musical instruments: From upright and grand pianos to guitars, wind instruments, and bowed string instruments and from drums and percussion to electronic keyboards and synthesizers. Yamaha is also a major force in the field of audio engineering as a manufacturer of mixing consoles, amplifiers, PA systems, and more. Yamaha's guiding principle is to combine traditional craftsmanship with state-of-the-art technology.
Designed to inspire
An ever-growing selection of expansion packs, currently available free of charge, allow Genos 2 users to continually personalise their repertoire by adding new sounds and styles: These include a DX-7 voice pack containing all 128 of the DX-7's original sounds as well as a range of specific Genos 2 premium packs. The internal memory has an impressive 15GB of storage space, which can be expanded at any time using USB sticks with up to 256GB capacity. At the end of the day, of course, the thing that counts is what the artist actually does with the wealth of options that the Yamaha Genos 2 puts at their fingertips – one thing that is certain, though, is that a sophisticated and versatile instrument like this one will open up all manner of avenues for experimentation.
This is what customers who viewed this product bought