16 Channel Digital Mixer
Remote controlled via built-in router with Wi-Fi and Ethernet

4 Integrated Effects processors

100 Band Analyzer

Free iOS, Android and other software apps available

Dimensions: 333x149x140 mm

Weight 3.0 kg

Includes: Rackmounts
Connections:
Mic/Line: 8x XLR/1/4" Combo jack inputs

Line: 8x 1/4" (6.3 mm) jacks

Main-Out XLR

4x AUX/Monitor Sends

Stereo Headphone output

MIDI In/Out
Available since
June 2015
Digital stagebox connection
No
integratated Player/Rec via USB/SD
stereo
Separate Personal Monitor system
No
Compact digital mixer
The Behringer X Air XR16 is a digital mixer for live and studio use that can be controlled remotely using an iPad or Android and Linux tablets. The compact, rack-mountable mixer uses the same technology as the popular Behringer X32 and packs 16 inputs into the smallest of spaces, in addition to offering storable preamp settings, and an extra feature in the form of a built-in USB recorder. Featuring latency-free digital effects and channel equalisers for a professional sound as well as four AUX outputs for easy monitoring, the mixer also comes complete with an automixing function. Insert effects can also be looped into the master channel to create the perfect sound, while users can additionally take advantage of the built-in equaliser and internal dynamics processing function. The Behringer X Air XR16 is supplied complete with rack ears and corner protectors, making it ready for immediate use. And the icing on the cake: The manufacturer offers a three-year warranty on the mixer.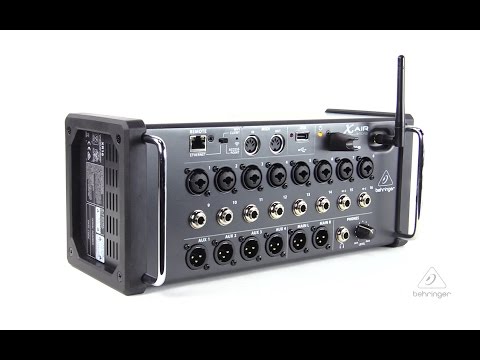 16 inputs and high-quality preamps
The 16 inputs on the Behringer X Air XR16 comprise eight microphone connections with programmable preamps and eight connections for line-level signals. Midas preamps guarantee a crystal-clear, high-quality sound and playback devices such as tablets, smartphones, laptops, and MP3 players can also be connected up to the line inputs. The USB connection provides a data backup and update-loading facility, and even allows stereo recording courtesy of the integrated recorder. The Wi-Fi interface also allows the Behringer X Air XR16 to be controlled remotely and conveniently by app. The Behringer mixer uses a three-band rather than a two-band Wi-Fi module for this purpose, which ensures faster and more stable connections when working wirelessly with multiple devices. For artists wishing to record their performances, the internal recorder can send stereo recordings to the USB port on the Behringer X Air XR16 in an uncompressed WAV format.
Sound on sound
The app-based remote control function operated via the Wi-Fi interface will be a hit for anyone wishing to use the Behringer X Air XR16 in a well-concealed position on stage or at a certain distance in the rehearsal room, or wanting to access personal settings when the device is being operated by several users at the same time. The Behringer X Air XR16 can also be easily integrated into existing LAN networks via an ethernet socket or used to start a dedicated local network. Artists who expect a high-quality mix will also find they make a good return on their investment here, as the internal digital effects section permits the addition of premium sound effects to between four stereo and eight mono channels – including including reverb from legendary Lexicon devices such as the 480L and the PCM70. For dynamic processing, users of the Behringer X Air XR16 can utilise plug-in emulations of the Teletronix LA-2A, the Urei 1176LN, or the Fairchild 670, and friends of established studio sound will also find the equaliser sound of their dreams in the digital replica of the Pultect EQP-1a.
About Behringer
The company, which was founded in Germany by Uli Behringer and now manufactures its products in China, has been known for affordable and great-value equipment since its very first product, the Studio Exciter F. An array of mixing consoles (such as the Eurodesk MX8000), signal processors, and later sound amplification and monitoring equipment, has made it possible for countless musicians to fit out their home studios, practice rooms, and mobile PAs within budget limits that were previously unthinkable. The acquisition of other companies, including Midas, Klark Teknik, and TC Electronic, meant that new product groups were added - and also resulted in the technical expertise of these companies being incorporated into product development.
All at the touch of a button
The Behringer X Air XR16 is also the mixer of choice for DJs, singer-songwriters, and solo entertainers as well as a live, studio, and rehearsal room mixer for bands. Remote control operation via app or MIDI controller also ensures stress-free use of the mixer in all situations. In addition, beginners can make use of the Behringer X Air XR16's ready-made EQ presets, while advanced users can make all of the fine EQ settings personally and track these visually via the app. DJs can listen to their mix using the headphone jack on the front of the mixer, and bands can use the AUX outputs to provide up to four of their band members with monitor mixes. The storable preamp settings will benefit users wishing to use the mixer in a rehearsal room, then on the go as a DJ or wedding singer. A consistent signal level is provided courtesy of the automixing function when mixing speeches, panel talks, and discussions involving multiple microphones, thus preventing the occurrence of typical problems such as feedback and comb filter effects.