United UT Twin87 B-Stock
Large Diaphragm Condenser Microphone
Two legendary circuits in one microphone

Switchable between modern and vintage mode

Polar pattern: omnidirectional, cardioid and figure-of-eight

Switchable RF filter

Frequency response: 20 - 20,000 Hz

SPL: 127dB with pad switched on @ 0.5% THD

Switchable -10dB PAD

Inherent noise: <10dB cardioid without pad and high pass filter

Power supply: 48 V phantom power

Dimensions (H x D): 220 x 55 mm

Weight: 2 kg

Incl. an elastic suspension shock mount
Switchable Polar Pattern
Yes
Vintage or modern? Why not have both?
The UT Twin87 from United Studio Technologies combines two microphone circuits - developed almost half a century apart - in a single unit and thus captures the essence of two classic mics in one. Users can even switch between these two circuits "on the fly" while the microphone is in operation. The UT Twin87's vintage and modern tonal characteristics are not the only switchable feature, however: The mic also offers a selection of omnidirectional, cardioid, and figure 8 polar patterns. All of this makes the UT Twin87 a highly flexible tool that can handle all manner of recording situations in the studio and ensures an uncompromising sound thanks to its use of premium-quality components.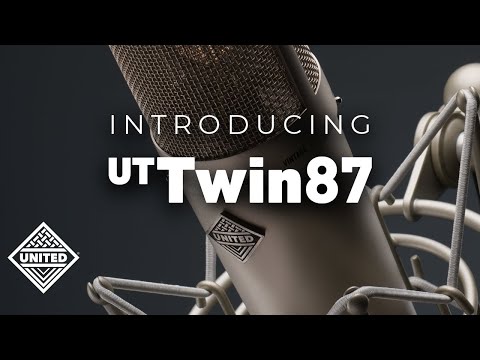 Warmth and detail at the flick of a switch
The UT Twin87 comes with United's own dual-diaphragm/dual-backplate design with 24-carat gold-sputtered membranes. In "Vintage" mode, the capsule is operated directly via the 48V phantom power, resulting in a warm, smooth, and mellow sound. Switching the microphone to "Modern" mode gently increases the polarisation voltage to 63 volts using a specially designed FET boost circuit, resulting in a brighter and more detailed tonal character. The UT Twin87 has an overall frequency response of 20Hz to 20kHz, which covers the entire normal range of human hearing. The rear of the microphone houses two switches, one of which activates an 80Hz/6dB per octave high-pass filter that effectively eliminates solid-borne background noise, and the other of which activates a -10dB pad function.
An affordable all-rounder for the studio
The United UT Twin87 was developed for professionals looking to get their hands on the authentic sound of the two "87-style" microphone designs at an affordable price. At the same time, however, this microphone makes no compromises when it comes to the quality of its components, and in addition to its custom milled brass capsule, it also features polystyrene, tantalum, multilayer ceramic, and WIMA film capacitors, metal and carbon film resistors, and hand-selected transistors. This combination of premium components makes the UT Twin87 a reliable tool for making high-quality recordings that stand out thanks to the design's proven tonal character.
About United Studio Technologies
United Studio Technologies is based in the town of Baton Rouge in the US state of Louisiana and was founded in 2018 by Chad Kelly and John "Cave" Daughdrill, both of whom brought with them two decades of development experience in the professional audio sector. While Chad previously worked for both large and small manufacturers of professional audio equipment and constructed his own high-quality devices in his spare time, John was employed as a creative director, graphic designer, industrial designer, illustrator, and copywriter for a series of renowned manufacturers. The first microphone that the two partners developed was the UT FET47, which makes classic vintage-style sounds available at an affordable price. United Studio Technologies also places great value on authenticity when it comes to the products it develops in cooperation with other audio engineers, and the company's mission is to constantly exceed its customers' expectations in terms of price-performance ratio.
Switchable polar patterns and HF filter
The United UT Twin 87 has six DIP switches, which activate the HF filter and can be accessed by unscrewing the bottom bell anti-clockwise and gently sliding out the brass body tube. When the microphone is used wirelessly, this filter should be switched on by lowering switch positions 1 and 5 and raising switch positions 2, 3, and 4. Switch position 6 should always be lowered. When the polar pattern is set to "cardioid", the UT Twin87's rear diaphragm and pattern circuitry are disabled, which produces a particularly focused sound with a good signal-to-noise ratio. The "figure 8" setting allows recordings to be made without noise contamination, while the "omnidirectional" setting is ideal for recording ambient sound from all directions.