Dual Bus Gaming Audio Mixer
USB audio interface for gaming and streaming applications

24 bit / 96 kHz

Built-in 4-channel mixer for microphone and 3 streaming channels - aux, chat, game

Each with assignable button and illuminated rotary control

XLR microphone input with +48 V phantom power

32-bit hardware DSP for effects calculation

Noise reduction, compressor, equaliser, de-esser, reverb and high-pass filter for microphone channel as well as voice effects from the Roland VT series

Further effects: De-esser and compressor for chat channel, equaliser for game channel, and delay for streaming output for synchronisation.

Dual bus architecture: two independent mixes can be created for online streaming and own monitoring

Front panel removable and customisable with own designs

BRIDGE CAST app for further settings such as voice effects, equaliser presets, assignment of buttons and knobs to different functions, backlight colour and more

BGM Cast allows the integration of royalty-free background musik and sound effects via the Roland Cloud and BRIDGE CAST App

Separate volume controls for streaming, line out and headphone out

USB-C port for power supply (5 V DC, 1.0 A - power supply not included)

USB-C port for connecting PC, mobile devices and consoles - compatible with iOS and Sony PlayStation 5

Headphone/headset jack: 3.5 mm stereo jack, CTIA

Aux input: 3.5 mm stereo jack

Line output: 3.5 mm stereo jack

Dimensions (W x D x H): 222 x 110 x 70 mm

Weight: 450 g

Incl. Quick Start Guide, USB-C cable and USB-C to USB-A cable
Available since
February 2023
Recording / Playback Channels
11x9
Number of S/PDIF Connectors
0
Number of ADAT Connectors
0
Numer of AES/EBU Connectors
0
Number of MADI Connectors
0
Max. sample rate (kHz)
96 kHz
Max. resolution in bit
24 bit
Connection Format
USB port Type C
Included in delivery
USB-C Cable, USB-C to USB-A Cable
Zero latency monitoring
1
Online gaming and streaming applications pose a set of requirements all their own, and Roland has developed the Bridge Cast in response to precisely those demands. This dual-bus gaming audio mixer gives gamers the ideal "all-in-one solution" that includes a mixing section, a USB-C audio interface, and an onboard effects unit, and it allows two independent sound mixes to be created - one for the player and one for the stream. The Bridge Cast's connections have also been configured with gamers and streamers in mind, while its user interface is designed to provide a clear overview and complete control during gameplay and to allow ease of use for those who have no previous experience with mixers or audio equipment. All of this together makes for a combination of high performance and great looks, which comes at a very attractive price.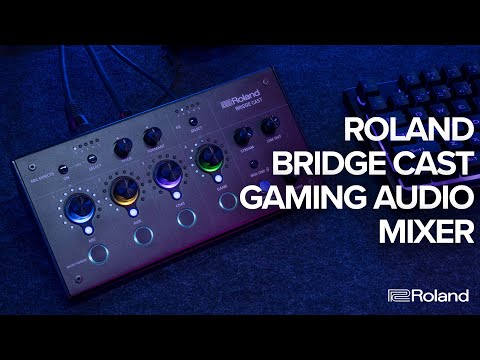 Professional-quality audio
The Roland Bridge Cast is first and foremost a high-performance audio interface with up to 24-bit/96kHz audio quality. Its four-channel mixer can accommodate a microphone and three streams ("Aux", "Chat", and "Game"), and each channel has a dedicated volume control as well as a mute button. As mentioned above, a particular highlight is the Bridge Cast's dual-bus architecture, which allows the user to create two separate mixes: One to listen to on their own headphones and one for the stream. The rear panel features an XLR input for the high-end Roland microphone preamp as well as an AUX input for external music playback, a headset output, and a line-out socket (all three of which are in 3.5mm mini-jack format). Alongside the USB-C connection, these provide ideal connectivity for gaming, and the Bridge Cast's numerous effects, which are optimised for the human voice, are processed by its internal 32-bit DSP.
For ambitious gamers
If gamers' vision of their ideal audio solution were to become a reality, it is a safe bet that it would look just like the Roland Bridge Cast - which is testament to how closely Roland has tailored its features, operation, effects, etc. to the needs of its target audience, whether they are playing alone, competing as a team, or broadcasting via live stream. Gamers also value individuality, particularly when it comes to building up a community, and Roland has taken full account of this fact with its proprietary Bridge Cast app. This allows users to control a range of detailed functions as well as assign individual functions to different controls on the user interface. What is more, the front panel can be removed and customised with the user's designs, so gamers can make the Bridge Cast their own, both functionally and visually.
About Roland
The Roland company was founded in 1972 in Osaka, Japan, and has been designing and building electronic musical instruments ever since. During its successful history, Roland has launched many ground-breaking instruments, from legendary drum machines such as the TR-808 and the TR-909 to synthesizer classics like Jupiter-8, SH-101 and the iconic TB-303. Besides synthesizers, Roland's workstations and electric pianos are also very popular. Equally well-known is Roland's subsidiary Boss, under whose brand name it designs and sells principally guitar pedals and effects units. Under the Roland Professional A/V label, the company additionally develops and distributes professional equipment for virtually every branch of audio and video production - from home studios through to commercial applications.
For optimised performance
Whether gamers are playing solo or in a team, their own performance is the most important thing, and the Roland Bridge Cast provides an extra boost here. For example, special EQ presets are provided that allow specific sounds to be amplified, e.g. the opponents' footsteps in first-person shooter games, which enables the player to respond faster. Users can of course store their own optimised settings as presets and recall them at the touch of a button. The Roland Bridge Cast doesn't only provide an enhanced experience for the actual user, however: A high level of intelligibility for both co-players and viewers is ensured by the onboard effects, which include an equaliser, a high-pass filter, a de-esser, and a compressor. Last but not least, users can integrate additional effects such as reverb and pitch shifting for even more individuality when gaming and streaming.
This is what customers who viewed this product bought