Complete Electric Drum Set
Drum module with 20 presets and 20 user kits

697 Sounds

55 Songs

4-Band EQ

Faders to control the volume of the pads, the effects or the equaliser

Line out (L/R)

Headphone outputs

Line in

USB

2 Additional trigger inputs

Bluetooth

Required surface area: approx. 140 x 80 cm

Power adapter, cabling and sticks included
Set consisting of:
10" Two-zone mesh snare pad

3x 10" Two-zone mesh tom pads

8" Mesh head kick pad

13" x Hi-hat pad with controller

12" Two-zone crash pad with stop function

14" Three-zone ride pad with stop function

MPS-750X drum module
Included hardware:
Drumrack

Hi-hat pedal

Foot pedal
The Millenium MPS-750X E-Drum Mesh Set is a very robust e-drum set with a great deal of features that is completely equipped with mesh heads and invites you to experiment thanks to its numerous module functions. Almost 700 sounds and no less than four different types of effects, including distortion and compressor, are available for editing. The kit offers 20 preset drum kits, while another 20 can be freely assigned by the user. The set comes with 55 play-along songs for practising different styles, covering all imaginable genres such as Rock, Pop, Funk, Electro, Jazz, Latin and many more.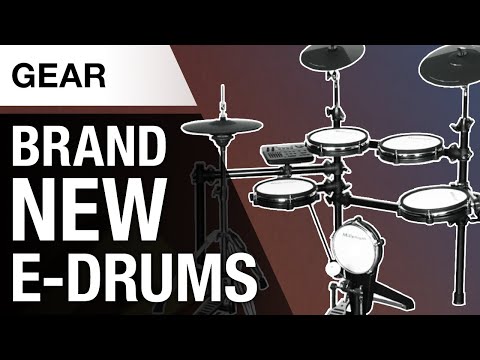 Sound manipulation in real time
The most striking feature of the Millenium MPS-750X is the fader section on the user interface, which features six sliders to allow real-time access to instrument volumes and effect intensity without the need to delve into confusing, complex submenus. It also comes with 15 song memory slots for recording your own patterns, which is significantly more than other e-drum kits in this price range have to offer. For expressive playing, the 14" ride pad has three trigger zones and - just like the 12" crash - a choke function that allows you to stop the decay like you would with an acoustic cymbal.
An invitation to experiment
Sound aficionados who enjoy experimenting with effects will get their money's worth with the MPS-750X. All sounds can be transposed over a wide range, enhanced with reverb or distortion, and edited with a compressor or four-band equaliser. 20 freely assignable user kits offer plenty of memory space for your own creations. If you want to upgrade the set later, you can also plug in two additional pads. The USB and MIDI interfaces ensure smooth communication with your computer and also allow access to external sound sources.
About Millenium
Millenium is one of Thomann's in-house brands and has been an integral part of the store's range since 1995. More than 800 products – from drums and percussion through to accessories such as microphone stands, racks, and recording workstations – bear the Millenium label. These products are made by renowned companies who also manufacture products for other well-known brands. Since they are imported directly from the factory without any further distributors or sales companies, they can be sold at particularly attractive prices. Incidentally, one in every four Thomann customers has already purchased at least one Millenium product.
Endless possibilities
There are not many e-drum sets in the lower price range that allow drummers to tailor the sounds to their own needs. The Millenium MPS-750X is clearly the exception here. Not enough reverb on the snare? Would you like to have a slightly "dirtier" tom sound? Bass drum sounding too weak? Cymbals cutting through too much? No problem at all, because no matter which musical genre you favour, the MPS-750X has the right tools on board to adjust the sounds to your own preferences or even to "bend" them to extremes if you wish, and all of this can be done conveniently with the six sliders.
This is what customers who viewed this product bought