Electric Bass
Body: Mahogany (Toona sureni)

Neck: Maple

Fretboard: Rosewood (Dalbergia latifolia)

Neck profile: C

Scale: 864 mm

Nut width: 38 mm

Frets: 20 Medium small

Pickups: 2 Marcus Standard Jazz Bass J-Revolution single coils

Marcus Heritage-3 electronics with frequency control

Controls: Volume/Tone (dual pot) - Pickup Blender - Treble - Middle/Middle Frequency (dual pot) - Bass

Active/Passive mini toggle switch

Colour: Tobacco Sunburst

Made by Sire
Available since
November 2018
Collaboration with a legend
The partnership between Indonesian company Sire and American bass legend Marcus Miller has been a successful one for many years now, and one of the many fruits that it has borne is the Marcus Miller V3, shown here in its second generation. The Sire MM V3 is a four-string "J-bass" that is equal to its bigger brother (the V7) in virtually every aspect - the only difference being that a smaller number of options are available in terms of woods and finishes. Apart from that however, the V3 provides the authentic sound of a "J-bass" together with the same playing feel that bassists know and love. The proprietary Marcus Miller "Heritage 3" preamp and three-band EQ are on board too, making this an immensely versatile bass. This second generation also boasts additional highlights such as fingerboard edges that have been meticulously rolled and smoothened for ehnanced comfort - a detail usually only found on instruments in much higher price brackets. This wealth of features Sire's ambition to provide high-quality basses at extremely reasonable prices.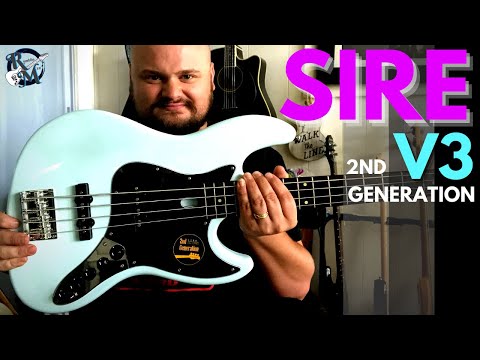 Classic concept meets sonic versatility
The foundation of the Sire MM V3 is a combination of a mahogany body, maple neck, and 20-fret rosewood fingerboard. The neck has a C-shape profile and is 38mm wide at the nut, and the V3 has a 34" scale length, so it provides a familiar "J-bass" playing feel that will have bassists feeling at home right away. What is more, the "Edgeless™" fingerboard means that the player can move around the neck however they want without any uncomfortable fret edges getting in the way. Two Marcus Miller J-Revolution single coil pickups combined with the preamp system mentioned above are the sonic heart of this bass, and players can choose between a conventional passive mode in which the pickups are governed by a single tone control and a modern active mode in which the separate controls for bass, mid, and treble frequencies provide extended tonal flexibility. The elegant Tobacco Sunburst finish complements the V3 perfectly and gives it a timeless look that will suit any musical style.
For "J-bass" fans who want a little more
"J-style" basses have decisively helped to shape the course of music history and garnered immense popularity with players everywhere - and with good reason. Despite the standard design already offering two pickups and a passive tone control, however, many players want a "J-bass" that will give them even more sonic versatility to keep them in step with today's musical world. The Sire MM V3 is therefore the perfect bass for anyone who has set their sights firmly on the classic "J-bass" design but also wants to have those punchy modern sounds at their fingertips. The budget-friendly price of this bass also makes it an interesting choice as a backup instrument as well as a good candidate for guitarists who additionally pull double duty on the bass.
About Sire
Sire, now based in California, was originally founded by a Korean guitar maker who had been successful in Asia since the late 90s. Since 2015, Sire has created a wide range of basses in collaboration with international superstar Marcus Miller, which combine modern versatility with classic looks and are hugely successful worldwide. In 2020, Sire's range was expanded once more to include acoustic and electric guitars, this time in collaboration with Larry Carlton. Whether Marcus Miller basses or Larry Carlton guitars, Sire always delivers excellent quality in different price brackets.
At home in every genre
Since the 1960s, the two-pickup "J-bass" design has been at home in virtually every style of music, from Soul, Blues, Reggae, and Funk through to Rock and Metal. The bridge pickup delivers a punchy mid-range response with plenty of attack, while the neck pickup provides a full-sounding low-end presence. And combining both pickups produces a sound that has become universally known and loved in all manner of genres and with every playing style. Thanks to its optional active three-band EQ controls, the V3 is significantly more versatile than its purely passive counterparts and will easily be able to handle the demands of the modern music production environment - from Metal bass tones with plenty of bite, attack, and punch through to contemporary R&B or Reggae sounds with a full low end and understated midrange response. And since the V3's active circuit operates at 18V, unwanted distortion will not occur.
This is what customers who viewed this product bought