USB Audio Interface Recording Set
Consists of Scarlett Solo audio interface, condenser microphone CM25 MkIII, studio headphone HP60 MkIII and a 3 meter XLR cable

2-Channel USB 2.0 audio interface with USB-C connection

24 bits / 192 kHz

1 x Scarlett microphone preamp

Phantom power +48 V

Switchable air function

1 Mic input: XLR

1 Line / instrument input: 6.3 mm jack

2 Line outputs: 6.3 mm jack balanced

Stereo headphone output: 6.3 mm jack

USB-C connection

For PC / Mac

USB bus-powered

Dimensions (W x H x D): 143.5 x 43.5 x 95.8 mm

Weight: 0.32 kg

Incl. USB cable (type C to A) and Hitmaker Expansion Software Bundle (Ableton Live Lite, 3 months Splice Sounds membership and plugin bundle for songwriting, mixing and mastering, Pro Tools Artist (three-month subscription) and Avid Complete Plug-in Bundle)
Hitmaker Expansion Plug-ins:
LANDR - AI-based mastering tool (two-month subscription)

Softube Marshall Silver Jubilee 2555 - Amp Sim

XLN Audio Addictive Keys - Virtual Keyboard Instruments

XLN Audio Addictive Drums 2: Studio Rock - Virtual Drum Library

Antares Auto-Tune Access - Vocal Tuning

Brainworx Bx_console Focusrite SC - Channelstrip

Focusrite Red 2 & 3 Plug-in Suite - EQ und Kompressor

Relab's LX480 Essentials - Reverb

Native Instruments MASSIVE, FAST Balancer
Available since
July 2019
Recording / Playback Channels
2x2
Number of S/PDIF Connectors
0
Number of ADAT Connectors
0
Numer of AES/EBU Connectors
0
Number of MADI Connectors
0
Max. sample rate (kHz)
192 kHz
Max. resolution in bit
24 bit
Connection Format
USB port Type C
Included in delivery
USB-C to USB-A cable, software, condenser microphone, headphone
Zero latency monitoring
1
The third generation of the Scarlett Solo
The Scarlett Solo, now in its third edition, is the most compact and portable model within Focusrite's acclaimed Scarlett series of USB audio interfaces for Mac and PC. It features an XLR mic input, a balanced line input for synthesisers and other line-level audio sources, and a pair of balanced outputs for monitoring. The Scarlett's high-quality mic preamp provides 48V phantom power and is also equipped with a brand-new Air Mode switch. Electric guitars and basses can be connected directly to the line input and the impedance adjusted to Hi-Z accordingly. The Scarlett Solo Studio Bundle also includes a CM25 MkIII condenser microphone, a pair of HP60 MkIII headphones, and a three-metre XLR cable: An unbeatable complete package at a budget-friendly price. An audio interface provides a connection between a computer and various external devices. The computer in turn requires special software in order to process the incoming signals. Focusrite offers a selection of software you can use to get started, including the digital audio workstations (DAWs) Ableton Live Lite and ProTools Artist, and a three-month subscription to Splice Sounds. Focusrite's Hitmaker Expansion software bundle is also included.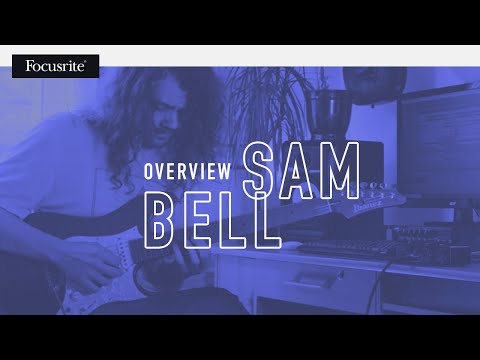 Love is in the "Air"
Focusrite's outstanding reputation for building high-quality mic preamps has been established for over three decades now, and much of this expertise has been included in the third generation of Scarlett interfaces via the brand-new integrated Air Mode, which when selected opens up and brightens the high end in a way that is intended to emulate their classic ISA preamps – or, as the British manufacturer puts it, to provide "unique high-end detail for vocals and acoustic guitar". Decades of experience really do speak for quality in this case, and the AD/DA converters provide optimum clarity and detail with a maximum bit depth of 24 bits and frequency rates of up to 192kHz.
For lone warriors
This compact desktop interface is ideally suited to singer/songwriters. It is USB-powered and sturdily built yet lightweight and portable. Plug the CM25 MkIII into the first input and your guitar into the second – and let the recording session begin. Unlike other members of the Scarlett family, the Solo lacks MIDI connectivity. This should not pose too much of a problem, however, since most modern keyboards feature a USB interface as standard and can thus be connected directly to the computer.
About Focusrite
Founded in 1985 by Rupert Neve, Focusrite quickly made a name for itself with high-quality analogue consoles. Today, the company markets audio interfaces, mic preamps, consoles, analogue EQs, and channel strips as well as hardware and software for digital audio processing. The company is based in High Wycombe, England, and has won numerous industry awards. In addition to the Focusrite Pro line, the company also has subsidiaries that include Adam Audio, Novation, and iOS app creator Ampify Music.
Hitmaker Expansion
The Hitmaker Expansion contains software tools for further enhancing your music productions: Guitar sounds with Softube Marshall Silver Jubilee 2555, tuning options for vocals with Antares Auto-Tune, reverb effects with Relab's LX480 Essentials, the XLN Audio Addictive Drums 2: Studio Rock kit, and the XLN Audio Addictive Keys Studio Grand Piano. Additionally, an EQ and compressor are offered with the Focusrite Red Plug-in Suite, a full channel strip offering an EQ, de-esser, compressor, limiter, gate, and expander with Bx_console Focusrite SC, and finally, two months with the Landr Studio mastering tools with five free masters to add the finishing touch to your projects. With the Hitmaker Expansion, you get both the interface and a selection of tools, so you have all the software you need to get started.
In the spotlight: Solo, 2i2, 4i4, 8i6, 18i8, and 18i20
The third generation of Scarlett interfaces comprises the Solo, 2i2, 4i4, 8i6, 18i8, and 18i20 as well as two bundles, the Solo Studio and 2i2 Studio, each of which includes a microphone and headphones. The abbreviations 2i2, 4i4, etc. specify the number of inputs and outputs. In other words, "2i2" stands for two (i)nputs and two outputs, and 4i4 accordingly stands for four (i)nputs and four outputs. The "Solo" bends the rules in this respect, since it actually features two inputs and two outputs – the name instead suggests that it is intended for solo artists or singer/songwriters.