18-Channel USB2.0 Audio Interface with USB-C Connection
24 bit / 192 kHz

8 Scarlett microphone preamps

+48 V phantom power

Switchable air function

Talkback function with integrated microphone

Pad switch

8 Mic/line inputs: XLR/6.3 mm jack combo balanced - 2 of them with instrument input on front side

10 Line outputs: 6.3 mm jack balanced

2 Stereo headphone outputs: 6.3 mm jack

2 S/PDIF input and output coaxial

2 ADAT input and output

MIDI input and output

USB-C connection

BNC word clock

For PC/Mac

Construction: 19" / 1 U (removable rack cover)

Dimensions (W x H x D): 482.6 x 46.6 x 259.8 mm

Weight: 3.19 kg

Incl. USB cable (type C to A) and Hitmaker Expansion software bundle (Ableton Live Lite, 3 months Splice Sounds membership and plugin bundle for songwriting, mixing and mastering)
Hitmaker Expansion Plugins:
Softube Marshall Silver Jubilee 2555 - Amp Sim

XLN Audio Addictive Keys - Virtual Keyboard Instruments

XLN Audio Addictive Drums 2: Studio Rock - Virtual Drum Library

Brainworx bx_oberhausen - Polysynth

Antares Auto-Tune Access - Vocal Tuning

Brainworx Bx_console Focusrite SC - Channel Strip

Focusrite Red 2 & 3 Plug-in Suite - EQ and Compressor

Relab's LX480 Essentials - Reverb

Brainworx bx_masterdesk - Mastering System
available since
July 2019
Recording / Playback Channels
18x20
Number of Instrument Inputs
2
Number of S/PDIF Connectors
2
Number of ADAT Connectors
2
Numer of AES/EBU Connectors
0
Number of MADI Connectors
0
Max. sample rate (kHz)
192 kHz
Max. resolution in bit
24 bit
Connection Format
USB port Type C
Included in delivery
USB-C to USB-A Cable, Software
Zero latency monitoring
1
The scarlet heart of the studio
The Focusrite Scarlett 18i20, a USB audio interface for Mac and PC, is the flagship of the acclaimed Scarlett interface series. It features eight balanced line inputs for connecting synthesizers or other line-level audio sources and ten balanced outputs. In addition, it features a digital stereo input and output in S/PDIF format and an eight-channel ADAT I/O. The eight analogue inputs are combined XLR/jack sockets and can thus be used with microphones. The 18i20 features eight high-quality Scarlett microphone preamps with switchable 48 V phantom power, as well as the brand-new Air Mode. Electric guitars and basses can also plugged in directly, since the impedance of the two front sockets can be set to Hi-Z. The Scarlett 18i20 also looks great and is very attractively priced. The interface also comes complete with the Focusrite Hitmaker Expansion, a comprehensive software package that essentially gives you everything you need to carry out every stage of the production process on your computer, from beginning to end.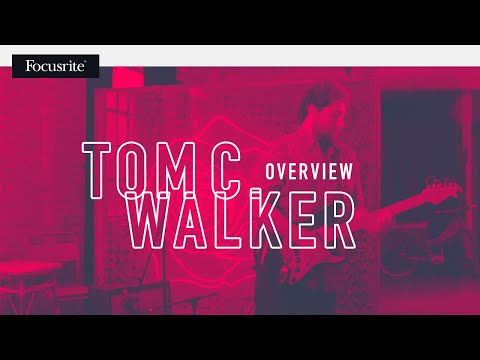 Love is in the "Air"
Focusrite's outstanding reputation for building high-quality mic preamps has been established for over three decades now, and much of this expertise has been included in the third generation of Scarlett interfaces via the brand-new integrated Air Mode, which when selected opens up and brightens the high end in a way that is intended to emulate their classic ISA preamps – or, as the British manufacturer puts it, to provide "unique high-end detail for vocals and acoustic guitar". Decades of experience really do speak for quality in this case, and the AD/DA converters provide optimum clarity and detail with a maximum bit depth of 24 bits and frequency rates of up to 192 kHz.
The power of 18
The Focusrite Scarlett 18i20's 1HU rack format is suitable for professional studios. The eighteen flexibly designed inputs should be fit for any purpose, and the ten analogue outputs mean you can, for example, create alternative monitoring mixes or integrate outboard effects units. Two headphone outputs, a word clock, and a built-in talkback mic neatly round off the picture. What is more, the integrated MIDI interface can be used to connect a master keyboard, for example, since a sound generator of four XLN Audio Addictive Keys is already included in the bundled software package.
About Focusrite
Founded in 1985 by Rupert Neve, Focusrite quickly made a name for itself with high-quality analogue consoles. Today, the company markets audio interfaces, mic preamps, consoles, analogue EQs, and channel strips as well as hardware and software for digital audio processing. The company is based in High Wycombe, England, and has won numerous industry awards. In addition to the Focusrite Pro line, the company also has subsidiaries that include Adam Audio, Novation, and iOS app creator Ampify Music.
Get started right away
The newly designed "gain halos" (the red and green LED rings around the gain controls on the front panel) are intended to make it easier to adjust gain settings, so that budding producers can start recording immediately after buying the interface. To make things simpler still, Focusrite has included a "Quick Start Tool" and put together an impressive and comprehensive package of free software, some in the box and some available for download, which includes Ableton Live Lite, Pro Tools First, Focusrite Red Plugin Suite, Focusrite Plugin Collective, Focusrite Control, Softube Time and Tone Bundle, a three-month subscription to Splice Sounds, and a software tool of four XLN Audio Addictive Keys of your choice.
Hitmaker Expansion
An audio interface provides a connection between a computer and various external devices. The computer in turn requires special software in order to process the incoming signals. The Hitmaker Expansion from Focusrite includes everything you need to get started here. At the core of the music production process here is the Ableton Live Lite digital audio workstation (DAW), and the package also includes tools for all of the relevant applications: Guitar sounds with Softube Marshall Silver Jubilee 2555, virtual instruments with XLN Audio Addictive Keys and Addictive Drums 2, vocal tuning options, effects, and of course mastering tools to ensure that your finished projects sound properly polished. With the Hitmaker Expansion, you therefore get both the interface itself and the entire range of tools you need in order to get the absolute best from what your interface has to offer.
In the spotlight: Solo, 2i2, 4i4, 8i6, 18i8, and 18i20
The third generation of Scarlett interfaces comprises the Solo, 2i2, 4i4, 8i6, 18i8, and 18i20 as well as two bundles, the Solo Studio and 2i2 Studio, each of which includes a microphone and headphones. The abbreviations 2i2, 4i4, etc. specify the number of inputs and outputs. In other words, "2i2" stands for two (i)nputs and two outputs, and 4i4 accordingly stands for four (i)nputs and four outputs. The "Solo" bends the rules in this respect, since it actually features two inputs and two outputs – the name instead suggests that it is intended for solo artists or singer/songwriters.
This product is currently sold out
These are other customers' choices: