Ultra HD USB Microphone
4 Selectable characteristics

Specially tailored to the needs of podcasters and content creators

Plug n 'play on PC and Mac using class drivers

Plug n 'play on iOS devices such as iPhone and iPad with Apple Camera Kit and external power supply (not included)

Plug n 'play on Android devices from Android V9.x or higher in connection with OTG adapter (not included in delivery)

Built-in headphone output for latency-free monitoring

Polar pattern: 4 switchable capture modes - front, front & back, tight stereo, wide stereo

Resolution: 24 bit / 192 kHz

Frequency response: 20 - 20.000 Hz

Max. sound pressure level: 129 dB SPL (0.5% THD)

Headphone output with 16 ohms nominal impedance, output power (RMS) of 43 mW and a frequency response of 20 - 22.000 Hz

Signal to noise ratio: 98 dB

THD: <0.9%

Incl. 2 m USB-C to USB-A cable and Ableton Live 11 Lite registration card

Current consumption: 75 mA via USB

Weight: 1 kg
Available since
November 2019
A full-fledged audio system
AKG presents its latest creation: The Lyra, a versatile USB microphone in an attractive retro design. Whilst the majority of USB mics are designed as entry-level devices for singers and podcasters who don't yet have their own audio interface, AKG has chosen to take a different path with the Lyra, which instead has been designed as a full-fledged audio system that is highly flexible in application and suitable for a range of sophisticated functions thanks to its four - yes, FOUR - microphone capsules, which put a variety of different capture modes at the user's disposal. The AKG Lyra's impressive functionality is complemented by its elegant design, which instantly recalls radio microphones of a bygone age, and also it tips the scales at around one kilogramme, thus promising a respectable level of stability.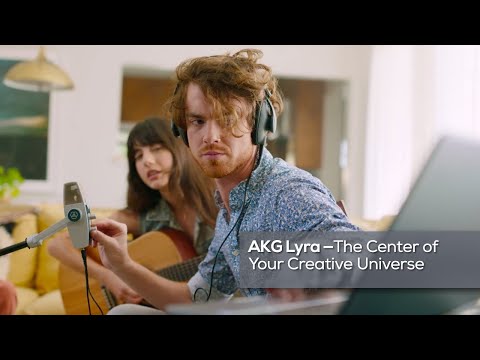 No cutting corners
As mentioned above, the AKG Lyra features four different capture modes, a feature that clearly sets this mic apart from the competition. These modes operate in a fashion similar to those found on a large-diaphragm condenser microphone but are also a step ahead, since they also cover stereo applications. In "Front" mode, the microphone captures a direct mono signal from in front of the capsule while suppressing signals from the rear and sides, and "Front & Back" mode captures mono signals from in front of and behind the capsule. The remaining two modes can be used to create stereo recordings: "Tight Stereo" captures a stereo signal from in front of the mic, while "Wide Stereo" employs all four capsules simultaneously to create an omnidirectional signal with wide stereo imaging.
Much more than meets the eye
The AKG Lyra is an excellent choice for podcasters thanks to its "Front", "Front & Back", and "Wide Stereo" capture modes, which allow the user to record themselves alone, to record interviews conducted with another person, or even make podcasts with the participants seated in a circle around the mic. The "Tight Stereo" capture mode on the other hand is the go-to when recording acoustic instruments and musical performances in intimate settings. The Lyra additionally features a headphone output with direct monitoring to allow the user to listen directly to the recorded signal without latency. Since the microphone is USB-powered, it is also highly suitable for use on the go, and the USB connection is compatible with both iOS and Android devices.
About AKG
AKG was founded in Vienna, in 1947, by Dr. Rudolf Goerike and Ernst Pless. After only a few months, the first AKG microphones were already being used for the first time in radio stations and theatres. AKG's big breakthrough occurred during the early 1950s, due to specific and sophisticated innovations in their field. One example is the first large-diaphragm condenser microphone with remote-controlled, switchable polar pattern (D12) – the first client to acquire them was the BBC in London. AKG is today a world-renowned brand in many different fields. With countless high-class products in its range, such as the well-known C414, the name AKG has always been synonymous of quality and outstanding sound.
Something for everyone
In addition to the aforementioned podcasters, the AKG Lyra's range of potential users also includes YouTubers and musicians, and those who want to make spoken word or music recordings without having to familiarise themselves with multiple different devices first will certainly appreciate the Lyra's "set it and forget it" usability. Mobile content creators in turn will benefit from the microphone's plug-and-play compatibility with PC, MacOS, Android, and iOS operating systems. That is by no means all, however: The four capture modes made possible by the AKG Lyra's four microphone capsules give the user more options for making high-quality recordings than many high-end recording devices.
This is what customers who viewed this product bought